Some of the all time greatest horses that are in our blood lines and their historys

She found him in the barn of Bill Gibford and narrowly beat out noted halter trainer Greg Whalen for ownership of the chestnut stallion bred by Bobbie Tatum. In halter classes, Zan Parr Bar earned 245 lifetime halter points and three world championships: 1977, 1979 and 1980. To show off the stallion's athleticism, Rose chose roping, with legendary trainer Billy Allen showing him. Rose found that Two Eyed Jack mares crossed best with Zan Parr Bar, however American Quarter Horse Hall of Fame member Diamonds Sparkle might have been his best nick. She produced her first Zan Parr Bar foal, Sparkles Rosezana, in 1982. Sparkles Rosezana went on to win the National Reining Horse Association Futurity in 1985. She was the AQHA world champion junior reining horse in 1986, a world champion in junior tie-down and a three time All American Quarter Horse Congress champion in heading and heeling. Zans Diamond Sun, another Diamonds Sparkle foal, earned 356 AQHA points, was the 1987 world champion junior reining horse and earned many high-point awards. Sparkles Suzana, another Zan Parr Bar cross with Diamonds Sparkle, was foaled in 1985 After focusing on cutting horses like American Quarter Horse Hall of Fame member Peppy San and Peponita for many years, American Quarter Horse Hall of Fame breeder Carol Rose wanted to move in a new direction with a stallion that had both looks and athleticism. and earned 968 AQHA points, the world championship in senior tie-down roping, several AQHA high-point honors and was the NRHA Derby champion. With Zan Parr Bar on his way to breaking all sire records, the stallion died of colitis X on November 25, 1987. The 12 foal crops sired by Zan Parr Bar did it all, earning nearly 25,000 points in almost every AQHA event. He sired an AQHA Superhorse, an NRHA Futuritychampion, an NRHA Derby champion, and 72 reserve and world champions in eight events, as well as 126 high-point award earners in four disciplines and 14 different events. Zan Parr Bar was inducted into the American Quarter Horse Hall of Fame in 2010.

Poco Bueno - NCHA, NRHA, NRCHA, AQHA Champion
AQHA Champion
NCHA Hall of Fame Sire
AQHA Hall of Fame in 1990
The 3RD All Time Leading Sire of AQHA Champions
The 8TH All Time Leading Maternal Grandsire of AQHA Champions
Sire of 87 R.O.M.'S
Although POCO BUENO has been dead for 32 years, his contribution to the quarter horse breed is still felt daily. After 32 years, he is still ranked the third leading sire of Champions. His Grand and Great Grand Get continue to be superior performers and money earners in the NCHA, NRHA, NRCHA, and AQHA.
POCO BUENO, his sire, KING, his son, POCO TIVIO and his daughter, POCO LENA have produced more cow horse money earning Get and Grand Get than any other bloodline in the history of the quarter horse breed.

Photos Curtry of Quarterhorserecord.com
Poco Lena, was the daughter of AQHA Champion Poco Bueno and Sheilwin, by Pretty Boy. Poco Lena was not only an AQHA Champion and Superior Halter Horse, she was also the first horse to be inducted into the National Cutting Horse Association Hall of Fame. She was the NCHA World Champion Cutting Mare in 1959, '60 and '61. Between 1954-1961, she was the NCHA reserve world champion cutting horse five times. By the time her cutting career ended, tragically and abruptly, Poco Lena had earned nearly $100,000 in NCHA competition - during an era when purses were little to nothing. So great were Poco Lena's accomplishments, she was also inducted into the AQHA Hall of Fame.

But fame did not ensure Poco Lena an easy existence. In 1962 her owner B.A. Skipper Jr. was killed in a plane crash on his way home from a cutting. A hired driver, who was to bring the horses home, left them in a trailer without food or water. In the mayhem following the disappearance of Skipper's airplane, it was days before the horses were missed and located. The episode nearly killed Poco Lena, and crippled her so severely she would never compete again.

California horse breeders Dr. Stephen and Jasmine Jensen heard of the plight of the great mare, and decided they would like to purchase her. Their hope was to rehabilitate Poco Lena and breed her to their champion halter stallion, Doc Bar. However, when Poco Lena finally hobbled off the trailer in California, her condition was so pitiable that the Jensens' first inclination was to have her humanely destroyed. Veterinarian Dr. Frank Wayland persuaded the new owners to give Poco Lena one last chance. Dr. Wayland and Dr. Gary Deter worked tirelessly-not only on her feet, but also on her reproductive tract. Her ovaries were the size of peas from years of medication to keep her out of heat for the show pen.
On June 21, 1967, Doc O'Lena was foaled on the front lawn of the Jensens' Double J Ranch. The following year she gave birth to another bay colt sired by Doc Bar, Dry Doc.
Dry Doc was the last foal the legendary Poco Lena would produce. On Dec 16, 1968, a few months after the colt was weaned, Poco Lena was put to sleep. Poco Lena's legacy, however, continues to be carried on through the many champion performers whose pedigrees boast her name.

It is really quite a miracle that Doc O'Lena was ever born at all.

The Jensen family of California bought his dam, the severely foundered Poco Lena, in 1963, with the intention of breeding her to their already proven halter and performance sire, Doc Bar.  In addition to an already heart wrenching story behind her laminitis, Poco Lena had suffered long-term effects from the drugs that had kept her from cycling during her cutting career.  It took three breeding seasons before she carried a foal.  That foal was Doc O'Lena, born June 21, 1967.

Shorty Freeman of Scottsdale, Arizona, trained Doc O'Lena as a 2-year-old (though he always conceded that the colt trained himself).  At the 1970 National Cutting Horse Association Futurity a year later, Doc O'Lena and Freeman became the first competitors to make a clean sweep of the futurity's preliminary go-rounds, semi-finals and finals.  Doc O'Lena earned a lifetime amount of $21,991 in the NCHA.

When Lenaette won the NCHA Futurity in 1975, Doc O'Lena became the first futurity winner to sire a winner.  Smart Little Lena, a stallion from Doc O'Lena's ninth crop, was the first horse to win NCHA's Triple Crown.  Doc O'Lena also sired Tanquery Gin, Shorty Lena, CD Olena, Mr Sun O Lena, Travalena and Scarlett O Lena.  By 1978, Doc O'Lena had been syndicated for an unprecedented $2.1 million.

All in all, Doc O'Lena sired 1,310 foals.  Of these, 321 accumulated 3,978.5 points; 87 earned performance Registers of Merit (also nine amateur, three youth); nine earned Superior performance awards; four were world champions; six were youth world champions; six were youth world champions; and four were reserve world champions.

Doc O'Lena died on February 27, 1993, at the Phillips Ranch in Frisco, Texas.  He was inducted into the American Quarter Horse Hall of Fame in 1997.

A new strain of top cow horses came along with the introduction of Peppy San.

Peppy San was foaled in 1959.  Bred by Gordon Howell of El Paso, Texas, he was the son of Leo San by Leo and out of the Pep Up mare Peppy Belle.  The sorrel colt was the only AQHA Champion ever produced by the pair.

Peppy San was a natural in the world of cutting.  In 1962, he earned the reserve championship at the first National Cutting Horse Association cutting futurity ridden by Matlock Rose of Gainesville, Texas.  After being purchased by the Douglas Lake Land and Cattle Company in 1963, Peppy San became the ranch's senior stallion.  Over the next two years, he only performed in the cutting arena three to four times a year, but placed well in each show, and was ranked fifth in the Canadian standings in 1965.

In 1967, Rose contracted to haul Peppy San for the NCHA World Championship.  During that year, the duo competed in 52 shows, taking home 50 checks.  They easily won the world title, and in doing so, set a record for the most money earned in one year - $20,112.65.  All in all, Peppy San earned 180 cutting points and 26 halter points, his AQHA Championship as a 3-year-old, a Superior in cutting and the 1967 high-point cutting stallion title.

After earning the NCHA world championship in 1967, Peppy San was retired to stud on the Canadian ranch until 1975, when he was moved to stand at the Rose Ranch in Texas.  While he stood at the Douglas Lake Land and Cattle Company, he was bred to a limited number of mares.  It was not until he was moved south and was bred to a larger number of outside mares that Peppy San was recognized as a top sire in his field.

Peppy San sired 493 registered foals.  Of those, 134 earned 2,279 points, 10 Superiors and 56 Registers of Merit.  His foals nabbed 10 world champion titles, four NCHA world championships and one National Reined Cow Horse Association snaffle bit futurity world championship.  Peppy San sired 1991 AQHA world champion and Hall of Fame member Royal Santana and five-time AQHA and NCHA Cutting World Champion Peponita.

Peppy San was euthanized April 26, 1989, due to complications from old age.  He was inducted into the American Quarter Horse Hall of Fame in 1999.
Our Mares Blazin Valley Girl is a Descendant of Poco Tivio

Bred by E. Paul Waggoner's Three D Stock Farm, Poco Tivio was foaled in 1947, and was the first foal out of a then 4-year-old mare named Sheilwin. His sire, Poco Bueno, was also owned by Three D.
When "Tivio" was 3 and already started in cutting training under Pine Johnson, he sold to Fort Worth car dealer Cliff Magers for $5,000. Milt Bennett took over the horse's training for a year until Don Dodge bought the stallion for $15,000, reportedly the highest price ever paid for a cutting horse at the time.
Immediately, the pair started winning. In 1951 and 1952, they placed fifth in the National Cutting Horse Association year-end top 10. In 1952, Dodge showed Tivio to his AQHA Champion title, consistently winning in both cutting and halter.
Soon Dodge retired Tivio and stood him to outside mares for $300. But it wasn't long before the trainer had Poco Lena, Tivio's full sister, in his barn. So, Dodge sold Tivio to California horseman Charley Araujo.
As a stallion, Poco Tivio was known for passing on his low-key temperament and flashy working style. His offspring showed as well in halter as in cutting.
Tivio received the NCHA Certificate of Ability Bronze Award, had $11,000 in NCHA earnings and is a member of the Working Cow Horse Hall of Fame. He sired 308 registered foals in 25 crops. Of those, 81 were AQHA point earners, 10 AQHA Champions, 26 ROM earners, and six Superior award winners that won 10 Superior performance awards in five events.
Tivio's daughters have produced the winners of more than $2.2 million in AQHA, NCHA, National Reining Horse Association and National Reined Cow Horse Association competition. The foals of those mares have earned 6,641 AQHA points in halter and performance, 10 open and youth world championships and two open reserve world championships.
Araujo stood Poco Tivio for several years and then just before his death gave the stallion to his farrier, Floyd Boss, in 1971.
Poco Tivio died in 1976. He was inducted into the American Quarter Horse Hall of Fame in 2013.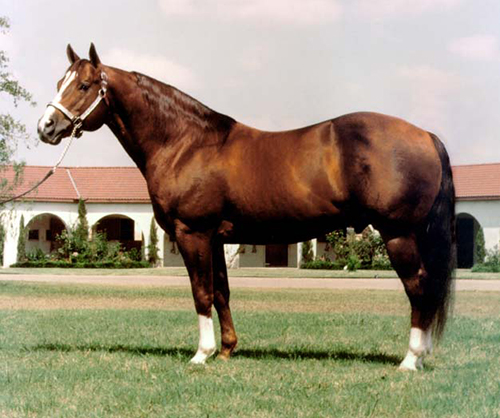 Colonel Freckles' life began in 1973 on a ranch in Midland, Texas.  The blaze-faced stallion was the son of Jewel's Leo Bars out of Christy Jay by Rey Jay.  His breeder was Marion Flynt.

The stallion first received recognition at the 1976 National Cutting Horse Association Futurity.  At the time, Bob McLeod was his owner and Olan Hightower rode the sorrel.  Hightower knew that the only way they were going to win the finals that year was to pick three feisty cows out of the herd.  The tactic worked.  Colonel Freckles won the championship, putting him in the books as a great athlete.

At the 1976 NCHA Futurity, Lou and Wanda Waters watched Colonel Freckles and fell in love with him.  They bred 24 mares to the stallion before purchasing him in 1983.  He became the centerpiece of their breeding facility in Fulshear, Texas.

In 1981, 36 of Colonel Freckles' progeny entered the NCHA Futurity.  Seven qualified for the semifinals and four made it to the finals, including Futurity champion Colonel Lil.  Other notable offspring of Colonel Freckles included 1988 NCHA Futurity reserve champion Cols Lil Pepper, finalist Colonel Flip and Super Stakes reserve champion Colonel Leo Bar.

Colonel Freckles' offspring also competed well in National Reining Horse Association and National Reined Cow Horse Association events.  Freckles Top Brass, Freckle Kid and King Badger's Colonel were champions in NRHA Futurity and Derby events.  In 1987, one of Colonel Freckles' sons, Nu Cash, won the NRCHA Snaffle Bit Futurity and went on to sire three other NRCHA Snaffle Bit Futurity winners.

The sorrel's 417 performing foals earned 2,719.5 AQHA points, 66 Registers of Merit and several AQHA Champion titles.

Colonel Freckles died in 1986.  He was inducted into the American Quarter Horse Hall of Fame in 2004