Chihuahuas
Here you will meet all of our chihuahuas male and female.
WhatsNew:
No Current Events



CurrentNews:

We have started foaling.

Chihuahuas We do have CKC Registered Chihuahua's
Welcome to our Chihuahua female page. Here we will introduce you to our crew of females.
Males now have their own page.
This is Tessa. CKC registered long haired black and tan. She is 4 pounds.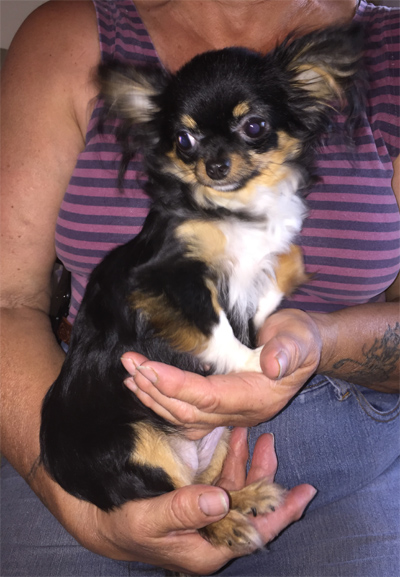 This is Taffy CKC registered Long haired Brindle. She is 4.5 pounds and is our up and coming female.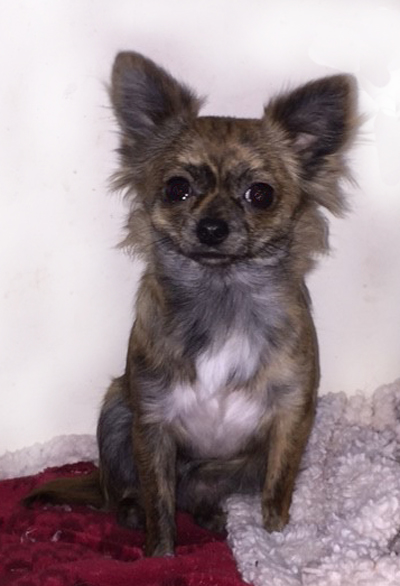 This is Buffy. She is our Long haired Chocolate CKC Registered female. She's a very nice little girl. She weighs 4 pounds. Click HERE to see her pedigree.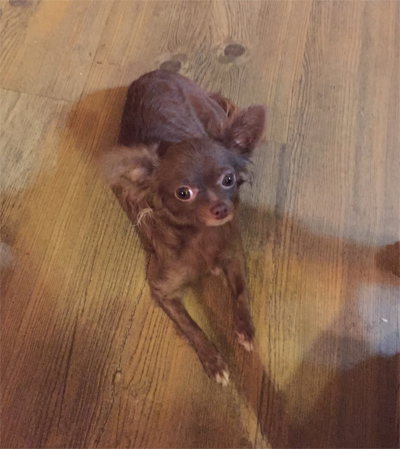 This is Rose. She is our short haired Chocolate CKC Registered female. Full sister to Buffy. She's a very nice little girl. To see her pedigree click HERE.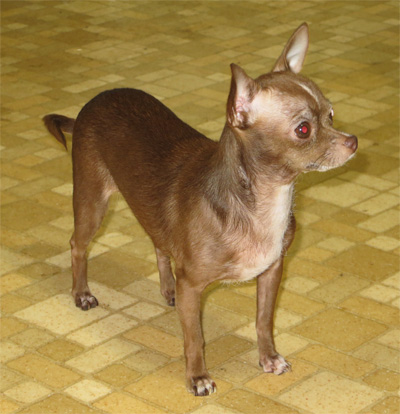 Nioby she is a sliver chocolate female she is very laided back and shes passing that on to her puppys she is 5 1/2 pounds.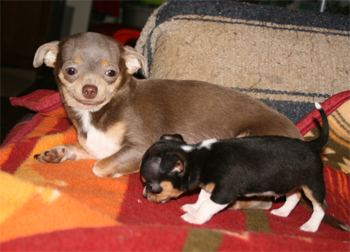 Haily is our long haired chocolate female. She is very friendly and loves to cuddle. And she loves to lick our feet too!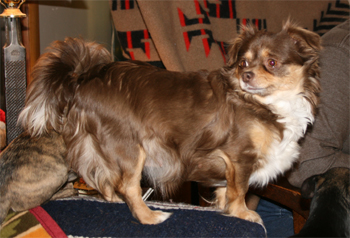 Tiffany. She is a daughter to Haily and Boo. She is very fun and easy going. Loves everyone that comes to met her.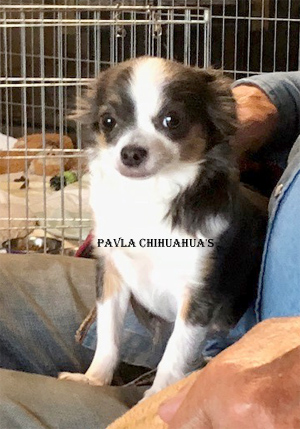 This is Jenny our tri colour short haired Female She very much loves to cuddle and play. She is 4 pounds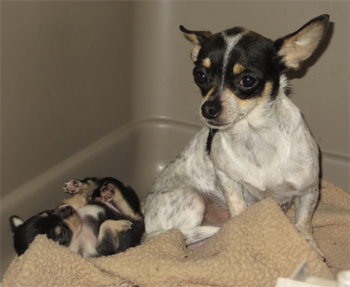 Misty she is a short haired white and brindle female. She sure loves to play all day long with Gus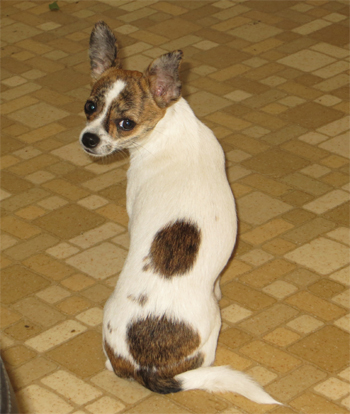 This is Tia A blue merle Female Chihuahua. She is our newest addition to our Family. She sure loves to play and hang out with us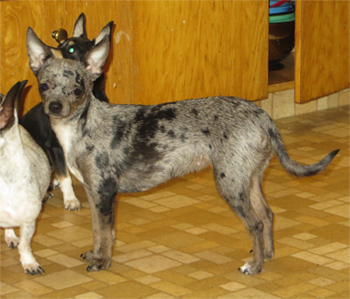 This is Trinda a long haired Sable Female. She is a little on the shy side, but her puppies are not.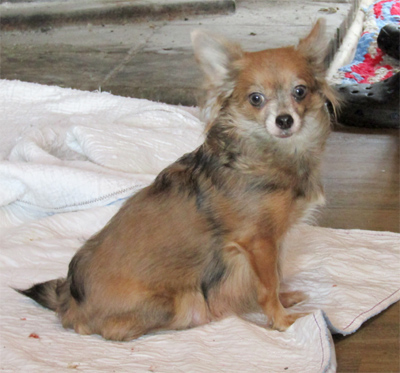 This is cinder, She is shy but warms up to you fairly fast. I am sorry about the picture she did not want to come out from her puppies, a better one will follow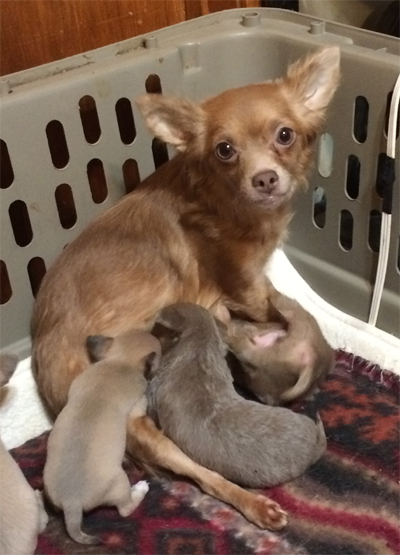 This is Sadie. She is a Daughter of Tia and Gus. She is a long Haired Silver Choclate Female. Shes very fun loving and easy to get along with.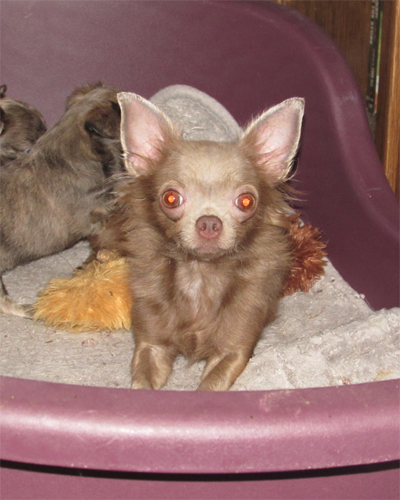 This is Tilly. A very loveable girl. She needs to be where you are.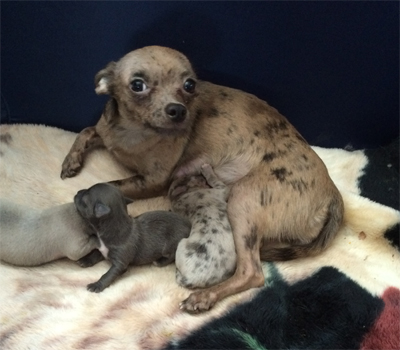 This is Patches, she is a daughter to Tia. She is also a blue merle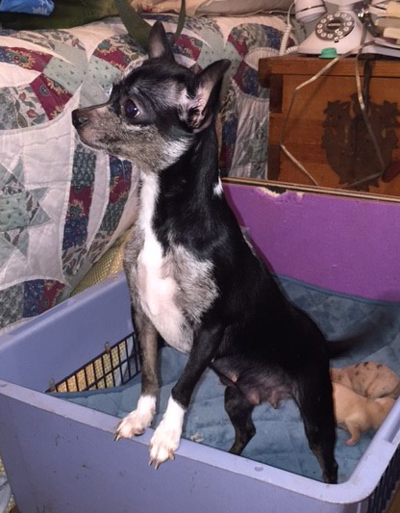 This is Baily, A very dark chocolate short haired female. She is a very snuggly girl. (Please note she is in pup in this photo, and squinting from the flash)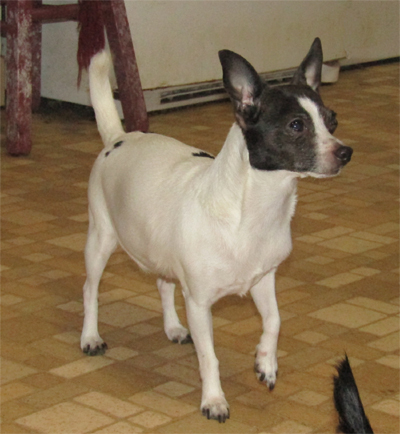 ---